Everyday Patterns
Patterns $8.95 each
Buy 6 patterns and get 1 free!!
(You will need to write your free pattern selection(s) in the "message" portion of the order.
Your email confirmation will NOT show the free pattern but it will be included with your shipment.)
HM-203

Interchangeable Lamp 2 (Uncle Sam, Santa, Ghost)

This project allows you to use one lamp all year long! The pieces are interchangeable by using velcro! You even change the sides of the lamp with the coordinating pieces.

HM-202

Interchangeable Lamp 1 (Bunny, Bear, Snowman)

This project allows you to use one lamp all year long! The pieces are interchangeable by using velcro! You even change the sides of the lamp with the coordinating pieces.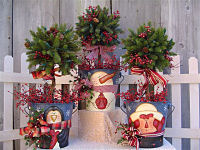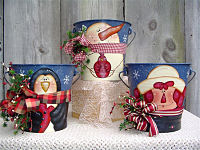 HM-204
Bucket Creations - triple pattern!
Three different 9" designs to paint on a surface of your choice.
They fit perfectly on a paint can or small wooden box. I accented mine with a lighted tree!
HM-207

Lighted Raggedy Ann Box - 33"

Raggedy Ann has a box built behind her so you can use a cliplight. The light shines through the heart cutout on the front side. She looks great standing next to Andy.

HM-206

Flowers for Ann - 36"

This Raggedy Andy is accented with a sprig of flowers. Head is cut separately to give the project dimension.
HM-157
"Decorative Angel Box"

This 11"w x 10-1/2"h box is perfect for a everyday or summer plant.

Lighted tree used here measures 32". (Paint the Angel in Christmas colors and use it to hold a Christmas tree!)

HM-140
"Bless My Garden"
A 33" Angel that is accented with an electrical candle and a nice flower box.
HM-98
Flutter On In
An, easy to make, butterfly yard stake. Butterfly measures 18".

HM-97
Best Friends
A TRIPLE PATTERN! Instructions included for the sitting girl, dog, and the bench.
Bench measures (28"w x 32"h).

HM-96
Lady Bear
This 36" bear is dressed in a painted lady bug's outfit.
HM-94

"ANGEL OF MINE"
A 21" LIGHTED ANGEL BOX THAT SITS UPON A PORCH SPINDLE. A PERFECT, YEAR-ROUND, DECORATION. ANGEL AND POST MEASURES A TOTAL OF 50".

HM-93

"BUZZ ON IN"
THIS 36" BEAR IS ACCENTED WITH HIS FAVORITE BUMBLEBEE. THE GLOW FROM THE CLIPLIGHT WILL SHINE THROUGH THE HEART. EASY!

HM-92

"MEOW"
WITH THE USE OF A CLIPLIGHT IN THE BACK, LIGHT WILL SHINE THROUGH THE STAR. CAT MEASURES 36"
HM-91

"BLOOMS INN"
ADD A WARM GLOW TO YOUR EVERYDAY AND SUMMER WITH THIS 36" DECORATIVE BIRDHOUSE. ATTACH A CLIPLIGHT TO THE BACK AND THE LIGHT WILL SHINE THROUGH THE CENTER OF THE 3 FLOWERS.

HM-89

"COUNTRY WELCOME"
TURN THIS 16 X 18" PROJECT INTO A WALLHANGING OR YARD STAKE. LOOKS GREAT ATTACHED TO A WREATH AS WELL.

HM-85
HEY DIDDLE DIDDLE
THIS ADORABLE BENCH PATTERN INCLUDES THE INSTRUCTIONS FOR THE COW, BENCH, AND LIGHTED CAT BOX. GREAT FOR PORCH OR CHILD'S ROOM. 26" X 36"
HM-67
BEE MY GUEST -25"
Place this sitting bear on your favorite chair or bench. He is dressed up in a beehive outfit and holds a honey pot on his lap. Made of 1" pine. Simply adorable!

HM-66
FRIENDS GATHER HERE - 28"
This decorative bench is a top-selling design. Instructions are included for the bunnies and the bench. Add real flowers to the terra cotta pots that are mounted on the seat.

HM-42

WISH UPON A STAR - 31"

An easy to make angel that
HM-16
Birdwatcher
A 16" design that will amuse all cat lovers. This feline is
surrounded by her bluebird friends.

HM-20
I Believe
Decorate your foyer or porch with this 35" wooden angel. She holds a large wooden star and has tea-dyed muslin for hair. A grapevine wreath is used as her halo. A great seller at craft shows.
HM-35
Bless My Bears
Bear Collectors will love this 35" wooden angel. She is accented with a no-sew fabric apron that features 3 quilted beehives at the bottom. She has easy-to-make muslin hair and holds her two favorite stuffed bears and small reading book. Her wings are painted like a beehive.
All patterns and designs © 2012 ~ Heidi Markish Designs - ALL RIGHTS RESERVED
Reselling on eBay is prohibited. Mass producing, catalog sales, photocopying and all other forms of reproduction are strictly prohibited. Downloading any pattern designs, images, or graphics (except for banners) is prohibited!
They are Copyrighted.