Fall/Thanksgiving Patterns
Patterns $8.95 each
Buy 6 patterns and get 1 free!!
(You will need to write your free pattern selection(s) in the "message" portion of the order.
Your email confirmation will NOT show the free pattern but it will be included with your shipment.)


A 46" pumpkin scarecrow. This large fella will look great by the front door or in a foyer.
Very easy to complete.
HM-223br> Scarecrow Centerpiece

Decorate your fall table with this easy to make scarecrow centerpiece. He is made from warm n natural batting and is accented with a felt hat, wooden nose, and wooden sunflower. Measures 15"h.

HM-214
Mr. Moe and his Crow - 5ft tall

This life size scarecrow is so much fun to make!!
He has a painted fabric face and holds a painted cloth crow!
You can place him on a antique chair on your front porch along with a bucket of candy!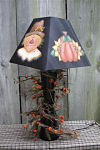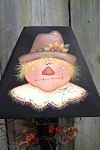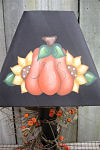 HM-215
Harvest Lampshade (9" x 12")
Two different pictures are featured on this fall lampshade.
The pumpkins are painted on three sides and the scarecrow on the other.
HM-213
Turkey Centerpiece - 22"

This turkey is made from painted fabric. He looks great on a table when placed inside a fall wreath or large candle ring.

HM-212
Cloth Scarecrow Yard Stake - 42"

This scarecrow looks great when placed in a decorative basket. Place him by your front door or in your foyer. Extremely easy to complete!
HM-211
Scarecrow on a Broom - 48"

This fella is made on a 32" decorative straw broom. He is fast and simple to make. This scarecrow looks great on any front door!

HM-193

Turkey Door Greeter - 36"

You can also make this turkey as a free standing project by attaching him to a base.
HM-192
Scarecrow Door Greeter - 38"
You can also make this scarecrow free-standing by attaching him to a base.

HM-205

Welcome Fall - 36"

This is a great project to use as a door greeter or yard stake. You could also personalize the sign with a last name.
HM-189
Fall Stepping Stones
Instructions included for all 4 designs!
Made on 17-1/2" Stepping Stones

HM-185
Fall Sweet Fall
38" Halloween Bear
HM-184
Where'd the Crows Go?

42" Scarecrow

HM-191
Scarecrow Candle Holder

Measures 22"



HM-180
Turkey Tree Box

18" Turkey Box

HM-173
Give Thanks
Made on a 24" grapevine wreath
HM-7
Scarecrow Sam
You can make this 25" scarecrow as a yard stake or for a door hanger.

HM-52
Crow Patrol
A 25" scarecrow that is accented with a small wooden crow and pumpkin. He has a fabric bandana and raffia hair.
All patterns and designs © 2012 ~ Heidi Markish Designs - ALL RIGHTS RESERVED
Reselling on eBay is prohibited. Mass producing, catalog sales, photocopying and all other forms of reproduction are strictly prohibited. Downloading any pattern designs, images, or graphics (except for banners) is prohibited!
They are Copyrighted.