Halloween Patterns
Patterns $8.95 each
Buy 6 patterns and get 1 free!!
(You will need to write your free pattern selection(s) in the "message" portion of the order.
Your email confirmation will NOT show the free pattern but it will be included with your shipment.)
A 46" pumpkin scarecrow. This large fella will look great by the front door or in a foyer.
Very easy to complete.
HM-229r> Cat Tales

This 48" yard stake is sure to be a great seller at your next craft show. Cat measures 20"h x 23"w.

Stake is accented with fall leaves and pip garland. Very easy to complete.

HM-230
Witchie Poo

A 40" door or wall hanging made from 1/4" birch plywood. Witchie Poo could also be placed on a yard stake where you could place a lighted fall garland between her hands.
This 40" ghost is a painted fabric project. Very easy to complete.
(It could also be cut from wood)
HM-182
Halloween Tree Box

20"w x 22"h

HM-181
Simply Bootiful
38" Ghost Yard Stake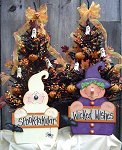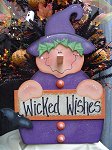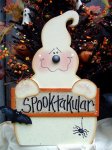 HM-187
Spooktakular Tree Boxes
18" Halloween tree boxes (holds a 3ft tree)
Instructions included for both the witch and the ghost
HM-185
Fall Sweet Fall
38" Halloween Bear

HM-189
Fall Stepping Stones
Instructions included for all 4 designs!
Made on 17-1/2" Stepping Stones
HM-153
"Ghost Candle Holder"
A new addition to my popular candle holder line.
This ghost measures 23".
(Source for candle listed in pattern).

HM-154
"Witch Candle Holder"
A new addition to my popular candle holder line. This witch measures 25". (Source for candle listed in pattern).

HM-142
Boo's Pumpkin
A 31" lighted pumpkin box. The glow from the cliplight will shine through the stars and moons. Cliplight available for $3.50
HM-143
Somethin's Brewin
A Halloween trio that can be displayed on a base or used as a fireplace screen. Kettle holds a fogging solution that creates a green fog! Measures 26"w x 32"h.

HM-131
I'LL BEWITCHA
A DOUBLE PATTERN!!
THIS SITTING, 44" WITCH IS HOLDING HER KETTLE. INSIDE KETTLE IS A FLAMING LIGHT...OR YOU COULD USE AN ACTUAL JACK O LANTERN ON HER LAP INSTEAD. BENCH INSTRUCTIONS INCLUDED

HM-121
Pumpkinville
A lighted pumpkin box. The box will let light shine
through 3 sides with the use of a cliplight.
Project sits on a post that is mounted in a painted
4 gallon bucket. Looks great on the front porch!
HM-120
Welcome My Pretties
A DOUBLE PATTERN!
Instructions included for the lighted witch box
and the cat. Light will shine through the
moon cutout with the help of a cliplight.

HM-119
Ghost Planter
A versatile, 34" ghost with a built in box.
Great for a fall plant or candy.
Accented with an electrical candle.

HM-116
Fall is Best Of All
32" x 20" plaque.
Works great as a wallhanging or yard stake.
HM-109
"THE BOO CREW"
A 60" ghost yard stake that can be accented with your family member's names on the post.

HM-101
Frank-n-Friends
A TRIPLE PATTERN. Instructions included for the 32" sitting Frankenstein, the bench, and the lighted ghost box. A small bat box sits on his lap as well.

HM-100
Treat Yourself
A fun treat box that you can place inside or outside on Halloween night. Place your favorite goodies inside and let your guests treat themselves. 26"h x 16"w.
HM-99
Ghosts Gather Here
A 40" lighted ghost box. It is accented with fall
garland and 3 small ghosts. Clip light required.

HM-78

GOING BATTY - 36"
This is a TRIPLE PATTERN...Pattern includes instructions for the sitting ghost, the lighted bat house, and the bench. The ghost holds a small box on his lap. The box can hold a candle or some halloween candy.

HM-72

SCAREDY CAT - 22"
Large yard stake for your fall decorating. Can also be used as a door hanger.
HM-71

CALL ME WICKED - 23"
Made on an 18" grapevine wreath, your trick or treaters may
think twice about knocking when this is on your door!

HM-55

1ST PLACE

A very easy to make witch.

She holds her prize winning pumpkin.
HM-2
Broomhilda
This 40" witch features a real straw broom, fabric hair, and a black witch hat. Very easy to complete.

HM-31
HOCUS POCUS
A 37" MAGICAL WITCH. FUN TO MAKE!

HM-13
BOO
A 20" HANGING GHOST ACCENTED WITH WOODEN BATS
All patterns and designs © 2012 ~ Heidi Markish Designs - ALL RIGHTS RESERVED
Reselling on eBay is prohibited. Mass producing, catalog sales, photocopying and all other forms of reproduction are strictly prohibited. Downloading any pattern designs, images, or graphics (except for banners) is prohibited!
They are Copyrighted.