Sewing Patterns
Patterns $8.95 each
Buy 6 patterns and get 1 free!!
(You will need to write your free pattern selection(s) in the "message" portion of the order.
Your email confirmation will NOT show the free pattern but it will be included with your shipment.)
NEW!
HM-241
Fabric Snowman Lampshade
Features two snowladies and two snowmen.
There is a muslin snowman on every panel.
HM-223
Scarecrow Centerpiece

Decorate your fall table with this easy to make scarecrow centerpiece. He is made from warm n natural batting and is accented with a felt hat, wooden nose, and wooden sunflower. Measures 15"h.

HM-213
Turkey Centerpiece - 22"

This turkey is made from painted fabric. He looks great on a table when placed inside a fall wreath or large candle ring.
HM-198

Winter Warms the Heart - 23"

This penguin is a combination of painted fabric and wood. His painted cloth body is accented with a painted fabric heart, wooden feet, and an impressive homespun bow.

HM-196

Gingerflakes - 25"

This is a painted fabric project that looks just like an actual cookie!
It is a project that you could also cut from wood...very simple to complete!
HM-186
Snow Be It

42" painted cloth snowman

(this project can be cut from wood or fabric!)

HM-188
Baking with Ginger

32" painted fabric gingerbread on base w/ a 4ft tree.

(CAN BE MADE FROM FABRIC OR WOOD)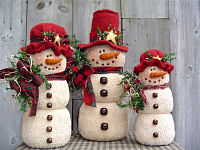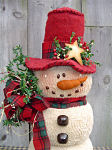 HM-201
The Flakes - 28", 22", and 18"
This snowman family was made from tea-dyed chenille.
They are very simple to make and are accented with a nice bow and a painted star on the hat.
HM-195

Snowman Wallhanging - 32"

This is a painted fabric project. He is so simple to sew and paint and will hang perfectly from a wreath hanger on your door.

HM-197

Spring Bunny - 34"

This is an adorable sewing project that looks great painted or left simply as soft chenille. He is accented with wooden letters at the bottom and painted cloth flowers in his arms.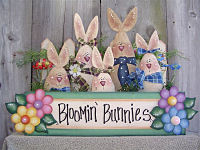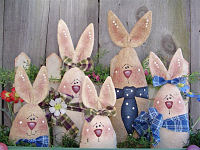 HM-208
Bloomin' Bunnies - (22" wide box & 5 sewn bunnies)
This project is a combination of painted fabric and wood. The box can hold the bunnies or you can put real flowers down inside. Instructions included for all bunnies and the box. Box is accented with a picket fence on the back side.
All patterns and designs © 2012 ~ Heidi Markish Designs - ALL RIGHTS RESERVED
Reselling on eBay is prohibited. Mass producing, catalog sales, photocopying and all other forms of reproduction are strictly prohibited. Downloading any pattern designs, images, or graphics (except for banners) is prohibited!
They are Copyrighted.