Snowmen Patterns
Patterns $8.95 each
Buy 6 patterns and get 1 free!!
(You will need to write your free pattern selection(s) in the "message" portion of the order.
Your email confirmation will NOT show the free pattern but it will be included with your shipment.)
HM-232
Frosty's Photos

This artistic snowman can be painted on any surface of your choice. I chose to paint mine on the cover of a photo album. Image measures 8"w x 10"h.

HM-231
O Tannenbaum

This 40" snowman is cut from 1/4" birch plywood and can be used as a door or wall hanging. You could also attach him to a yard stake as well. Fast and easy to complete!
HM-222
"Brr"

This cloth snowman measures 28". He is made

from warm and natural batting. A quick and easy project. Perfect for a beginner.

HM-221
"Formal Frosty"

This 50" Snowman is ready for a party. He will be quite the eye-catcher on your front porch or in your foyer. Very easy to complete.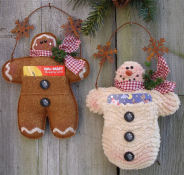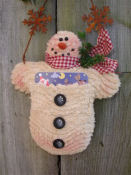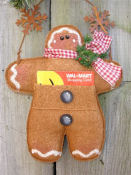 HM-218
"Holiday Gift Card Holders" - 9"
This is a double pattern. Personalize your holiday gift giving by making one of these
designs and then insert a gift card down inside the pocket. Now, those that receive
your gift, will also have a cute ornament to keep forever. Fast & simple!!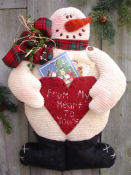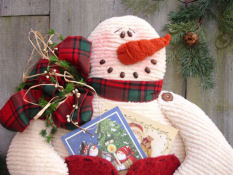 HM-219
"Snowman Pocket Pal" - 26"
This chenille snowman is accented with a heart pocket on his belly.
The pocket makes this snowman good for many things...he can hold your Christmas cards,
candy canes, or a gift such as a box of chocolate or bath & body supplies.
Its uses are endless. Very easy for beginners.
HM-195

Snowman Wallhanging - 32"

This is a painted fabric project. He is so simple to sew and paint and will hang perfectly from a wreath hanger on your door.

HM-199

Welcome Snowman - 72"

This is one, tall, eye-catching snowman! The project is so easy to complete and will look perfect tied to a lamp post or leaning next to your front door with a lighted tree behind him.
(Designed in conjuction with Sandra Brake).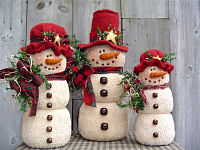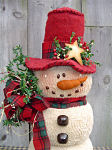 HM-201
The Flakes - 28", 22", and 18"
This snowman family was made from tea-dyed chenille.
They are very simple to make and are accented with a nice bow and a painted star on the hat.
HM-190
Winter Countdown

30" Hanging Snowman that can hold a 12" calendar

HM-186
Snow Be It

42" painted cloth snowman

(this project can be cut from wood or fabric!)
HM-174
Warm Winter Wishes
Snowman yard stake

HM-172
Snowman Shelf
22" x 17"

HM-165
"Winter is Sweet!" - 38"

Instructions included for the snowman and

peppermint candy tree ornaments.
HM-161
Frosty's Favorite Tree - 46"

HM-159
"Do You See What I See?"

These snowmen are painted on a 28" x 20" oil

painting canvas.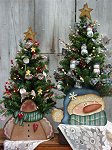 HM-166
Snowman & Gingerbread Tree Box
(double pattern) - 9"
HM-148
"Bench Buddies"
This adorable snowman bench measures 29"h x 30"w.

HM-149
"Tah Dah"
A 28" skating snowman. Easy to make.

HM-150
"Snowman Tree Box"
This box features a snowman on each side...each has their own saying. (Happiness, Laughter, Love, and Hope). It measures 17" h x 14.5" w. (Perfect for a 4 or 5ft tree.)
HM-141
I Flip for Snow
This hand-standing snowman measures 34"...easy to make!

HM-138
"Snow, Stars, & Stripes"
This 40" snowman is accented with a patriotic pinwheel. (A small flag can replace the pinwheel).

HM-135
"I Pledge Allegiance"
A 36" patriotic snowman that is perfect for year-round decorating.
HM-132
Warm Wishes
This snowman is designed to hold a candle. You could use an electrical candle, a Yankee Candle, or a candle that is placed on a dish. Measures 20".

HM-130
SNOW PATROL
A 58" WINTER YARD STAKE THAT IS GREAT TO PERSONALIZE.

HM-128
TIS THE SEASON
THIS SNOWMAN IS 36" TALL AND IS ACCENTED WITH LIGHTED GREENERY AND COLORFUL JINGLE BELLS.
HM-127
SNOW HAPPY
THIS 36" SNOWMAN PLANTER BOX IS PERFECT FOR A NICE POINSETTIA...IT IS ACCENTED WITH AN ELECTRICAL CANDLE...EASY!

HM-123
HOLIDAY WISHES
THIS 26" X 15" BOX IS PERFECT FOR YOUR CHRISTMAS CARDS.

HM-122
MITTEN N THINGS
A LARGE, VERSATILE SNOWMAN BOX.
MEASURES 33"
HM-112
"WISH I MAY"
A 37" lighted snowman box. With the use of a clip light, a warm glow will shine through the snowflake cutout.
HM-110
"THIS LIGHT OF MINE"
An easy to make snowman box. Measures 26". Perfect for holding holiday candy or cards.

HM-104
"YOUR LOVE MELTS ME"
Made on an 18" grapevine wreath.
HM-102
Winter Bumpkin
Incorporate this 36" snowman into your fall decorating. He is accented with fall garland and an electrical candle. Fun to make!

HM-81

TOO DARN COLD
THIS 44" SNOWMAN IS NOT TOO HAPPY ABOUT THE FRIGID WEATHER. EASY TO MAKE!

HM-82

NEVER ENOUGH SNOWMEN
A TOP SELLING PATTERN. THIS SNOWMAN PLAQUE MEASURES
32" X 15".
HM-83

IT'S SNOW THYME
PLACE THIS LIGHTED YARD STAKE OUT FRONT FOR THE WINTER. LOOKS GREAT IN A WREATH TOO! 23"

HM-77

HERE COMES SANTA - 32"
This is a DOUBLE PATTERN! Pattern includes instructions for the sitting snowman and the bench. The snowman holds a country candle under his arm as he waits for santa to arrive.

HM-73

LET THE SNOW BEGIN - 33"
A perfect addition to your winter decorations. These two snowman buddies are anxious for the snow to arrive
HM-64
FRESH COOKIES - 32"
This snowman chef can decorate your kitchen all year long! He holds an antique box filled with antique trinkets.

HM-58

FROSTY & FRIENDS - 30"

Snowmen and teddy bear collectors will adore this pattern. Place him in your foyer and surround him with actual teddy bears.

HM-50

SNOWGAUGE - 30"

This snowman can actually measure the daily snowfall. Popular at craft shows.
HM-40
SIDEWALK SWEEPER
A 40" SNOWMAN ACCENTED WITH A CINNAMON BROOM. A VERY POPULAR AND EASY TO MAKE DESIGN.

HM-44
FROSTY'S SKI RENTAL
A 38" SNOWMAN THAT IS READY TO HIT THE SLOPES!

HM-33
BYE BYE BIRDIES
A 42" SNOWMAN THAT HOLDS AN "EMPTY BIRDHOUSE" GREAT FOR A FOYER OR FRONT PORCH.
HM-22
FREE SNOWBALLS
A 32" SNOWMAN THAT HOLDS A BUCKET OF SNOWBALLS.


HM-3
SNOW DRIFTER
A 25" HANGING SNOWMAN
HM-4
FROSTY FREDDY
30" SNOWMAN ACCENTED WITH A FABRIC SCARF AND HAT

HM-10
WINTER WONDERLAND
41" SNOWMAN...VERY EASY!
HM-49
Christmas Friends
This is a 21" wall hanging. The main part of the project is cut as one piece making it easy to complete. The hands, mustache, and snowman nose is cut separately.

HM-57
Santa's Mailbag
This 30" wooden snowman is perfect for the front porch or foyer. His bag holding the letters is cut as one piece.
HM-48
Let it Snow
A 26" wooden snowman that is super easy to complete. Perfect for a yard stake or door greeter.

HM-39
Snowflakes
You can turn this 25" snowman into a yard stake or wire him to a large wreath for your front door. He is accented with a fabric scarf and holds three wooden snowflakes under his arm.
All patterns and designs © 2012 ~ Heidi Markish Designs - ALL RIGHTS RESERVED
Reselling on eBay is prohibited. Mass producing, catalog sales, photocopying and all other forms of reproduction are strictly prohibited. Downloading any pattern designs, images, or graphics (except for banners) is prohibited!
They are Copyrighted.