Spring Patterns
Patterns $8.95 each
Buy 6 patterns and get 1 free!!
(You will need to write your free pattern selection(s) in the "message" portion of the order.
Your email confirmation will NOT show the free pattern but it will be included with your shipment.)


HM-238
"I'm Not Misbeehavin"
This bear was designed to hang on any basket or wreath. Pattern includes instructions for the bear, flowers, and bee. This would also be cute as a yard stake.

HM-237
"Pleaze don't pick my flowerz"
Attach this 17" bunny to a basket or wreath. Pattern includes instructions for the bunny and the flowers. You could even enlarge to the bunny and turn it into a porch stander. Flowers would be adorable enlarged and put on a yard stake.
HM-217
"Daisy Mae" - 26"
This adorable spring bunny is made from chenille and is accented with a large painted fabric daisy.
She can be hung on a door or simply be used as a fun pillow.
You could also cut this project from wood.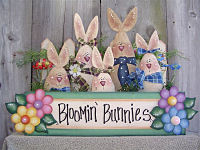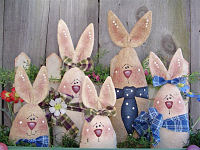 HM-208
Bloomin' Bunnies - (22" wide box & 5 sewn bunnies)
This project is a combination of painted fabric and wood. The box can hold the bunnies or you can put real flowers down inside. Instructions included for all bunnies and the box. Box is accented with a picket fence on the back side.
HM-209

Easter Bunny Door Greeter - 36"

You can make this project as a door greeter, a yard stake or as a free standing porch decoration. Very easy to complete!

HM-197

Spring Bunny - 34"

This is an adorable sewing project that looks great painted or left simply as soft chenille. He is accented with wooden letters at the bottom and painted cloth flowers in his arms.
HM-175
Peter Rabbit's Posies
This bunny is painted on a 20" x 28" canvas board.

HM-176
Bunny Candle Holder - 23"

HM-177
Leprechaun Candle Holder - 21"
HM-155
"Spring Fling"

This spring bunny is attached to a 24" grapevine wreath.

HM-156
"Decorative Bunny Box"

This 11"w x 10-1/2"h box is perfect for a spring or summer plant.

Lighted tree used here measures 32"
HM-133
Oh Hoppy Day
37" bunny box that is accented with an electrical candle. Box is great for spring flowers.

HM-134
The Bunny Bunch
A 52" bunny yard stake that can be personalized. Extend the stake if more names are needed.

HM-114
MY GARDEN GOODIES
A 41" BUNNY THAT IS PERFECT FOR YOUR SPRING AND SUMMER DECORATING. ACCENTED WITH AN ELECTRICAL CANDLE IN BOX.
HM-113
HOP ON IN
THIS BUNNY MEASURES 34"
A QUICK AND EASY PROJECT.

HM-90

FINDERS KEEPERS"
INSTRUCTIONS ARE INCLUDED FOR THE 34" SITTING BUNNY AND THE BENCH. FLOWER POT CAN HOLD AN ELECTRICAL CANDLE OR SOME SPRING FLOWERS. EASY!
HM-87

"BUNNY TRAIL"
DELIGHT YOUR GUESTS WITH THIS 38" BUNNY. VERY EASY TO MAKE.

HM-88

"HIPPITY HOPPITY"
A 41" LIGHTED BUNNY BOX. ATTACH A CLIP LIGHT TO THE BACK OF THE BOX AND THE LIGHT WILL SHINE THROUGH THE FRONT.

HM-70
PICK A POSIE - 40"
This large, eye catching, bunny will be
a great decoration for spring and
summer. Her basket is filled with
wooden posies!

HM-66
FRIENDS GATHER HERE - 28"
This decorative bench is a top-selling design. Instructions are included for the bunnies and the bench. Add real flowers to the terra cotta pots that are mounted on the seat.

HM-65
GARDEN MEETING - 32"
This, very easy to make, bunny points your guests to the garden. Change the saying if you don't have a garden.

HM-23
PATCHES
A 26" HANGING BUNNY. GREAT FOR THE FRONT DOOR.
HM-25
Henry Hare
They don't get much easier than this. Henry is 48" tall and holds a large wooden carrot. He can decorate your foyer or porch all spring and summer. He looks great standing next to Harriet Hare.

HM-28
Thyme to Garden
Add this 36" bunny bench sitter to your spring and summer decorations. She wears a no-sew fabric dress and tea-dyed socks for leggings. She holds a bag filled with gardening goodies. She would also look great holding a pot filled with real flowers.
HM-29
Flower Vendor
Decorate your front door with this 36", eye-catching bunny. She wears a no-sew fabric dress, tea-dyed socks and has a straw hat on her head. She is selling her .5 cent flowers which are cut from wood. Perfect for spring and summer decorating.

HM-24
Harriet Hare
This 42" bunny was a best seller for me. She wears a no-sew fabric dress and holds a basket with her baby and two wooden carrots inside. Harriet looks so cute standing next to Henry Hare on your front porch.
HM-45
Somebirdie to Love
This is an easy to make 38" wooden bunny. She holds a box filled with her birdie friends. Box reads "Everybunny needs somebirdie to love". Another idea is to remove the birdies and add flowers to her box. Write "Spring has sprung" on the box.

HM-46
Bunny Trio
This 44" bunny family loves being together. If you have more than three members in your family you could duplicate the smallest of the three bunnies, extend the base, and then write the family's name on the front sign.
All patterns and designs © 2012 ~ Heidi Markish Designs - ALL RIGHTS RESERVED
Reselling on eBay is prohibited. Mass producing, catalog sales, photocopying and all other forms of reproduction are strictly prohibited. Downloading any pattern designs, images, or graphics (except for banners) is prohibited!
They are Copyrighted.