Winter/Christmas Patterns
Patterns $8.95 each
Buy 6 patterns and get 1 free!
(You will need to write your free pattern selection(s) in the "message" portion of the order.
Your email confirmation will NOT show the free pattern but it will be included with your shipment.)
NEW!
HM-241
Fabric Snowman Lampshade
Features two snowladies and two snowmen.
There is a muslin snowman on every panel.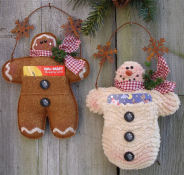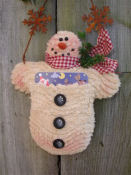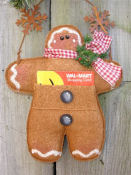 HM-218
"Holiday Gift Card Holders" - 9"
This is a double pattern. Personalize your holiday gift giving by making one of these
designs and then insert a gift card down inside the pocket. Now, those that receive
your gift, will also have a cute ornament to keep forever. Fast & simple!!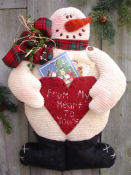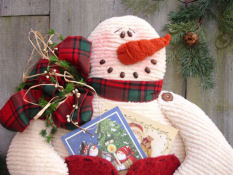 HM-219
"Snowman Pocket Pal" - 26"
This chenille snowman is accented with a heart pocket on his belly.
The pocket makes this snowman good for many things...he can hold your Christmas cards,
candy canes, or a gift such as a box of chocolate or bath & body supplies.
Its uses are endless. Very easy for beginners.
HM-194

Santa Door Greeter - 38"

You can also make this Santa as a free-standing project by attaching him to a base.

HM-200

Santa is in Town - 60"

A whimsical Santa that will look great on a front porch or next to your Christmas tree.
He is accented with lighted greenery.
HM-198

Winter Warms the Heart - 23"

This penguin is a combination of painted fabric and wood. His painted cloth body is accented with a painted fabric heart, wooden feet, and an impressive homespun bow.

HM-196

Gingerflakes - 25"

This is a painted fabric project that looks just like an actual cookie!
It is a project that you could also cut from wood...very simple to complete!
HM-190
Winter Countdown

30" Hanging Snowman that can hold a 12" calendar

HM-188
Baking with Ginger

32" painted fabric gingerbread on base w/ a 4ft tree.

(CAN BE MADE FROM FABRIC OR WOOD)
HM-186
Snow Be It

42" painted cloth snowman

(this project can be cut from wood or fabric!)

HM-183
Santa Season

36" Yard Stake
HM-174
Warm Winter Wishes
Snowman yard stake

HM-171
See Spot Sing
(double pattern)

Instructions included for a 24" and a 15" dog.

This 15" dog was designed to be added to the group of Christmas Carolers.

HM-170
Gingerbread Candle Holder
18"
HM-169
"Snowfriends Are Best!"
47"

Instructions included for the Santa and the pole.

HM-162
"Gentleman Caroler"
45"

HM-164
Children Carolers
(double pattern!) 33"

Instructions included for the boy and the girl.
HM- 163
"Lady Caroler"
41"

HM-160
Santa's Gone Fishin'
40"

HM-165
"Winter is Sweet!"
38"

Instructions included for the snowman and

peppermint candy tree ornaments.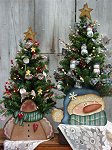 HM-166
Snowman & Gingerbread Tree Box
(double pattern) - 9"
HM-167
Santa & Bear Tree Box
(double pattern) - 11" santa and 9" bear
HM-168
Penguin & Reindeer Tree Box
(double pattern) - 9" penguin and 11" reindeer
HM -151
"Salt Box Sid"

A double pattern! Instructions are included for the 20" sitting penguin and the picket fence bench.
The penguin holds an antique scoop and his box contains salt for your icy sidewalk!

HM-150
"Snowman Tree Box"
This box features a snowman on each side...each has their own saying. (Happiness, Laughter, Love, and Hope). It measures 17" h x 14.5" w.
(Perfect for a 4 or 5ft tree.)

HM-145
Sam & St. Nick
A double pattern
Instructions included for both candle holders...they each measure 23".
HM-147
Peace, Love, & Joy
A 51" Santa that is accented
with a 4' lighted Christmas tree. Head is cut separate making it very easy to make.

HM-137
"A Gingerbread Christmas"
A 37" Gingerbread sled that is accented with lighted garland.
(not available for wholesale)

HM-129
VICTORIAN SANTA
THIS 44" SANTA IS QUITE AN EYECATCHER...HE HOLDS A LIGHTED FLORAL WREATH THAT IS ACCENTED WITH GOLD AND CREAM JINGLE BELLS.
HM-126
GINGER SWEET GINGER
A 28" PLANTER BOX...IT IS ACCENTED WITH AN ELECTRICAL CANDLE...EASY!!!

HM-125
DECORATIVE TREE BOX
A DOUBLE PATTERN! BOTH OF THESE ARE PERFECT FOR A TABLE TOP SIZED TREE. MEASURES 8" X 8"

HM-124
THE NUTCRACKER
AN EASY TO MAKE, 46" NUTCRACKER.
PERFECT FOR PORCH.
HM-111
"JINGLE KRINGLE"
This 48" santa is accented with lots of jingle bells. He is a great porch or foyer decoration.

HM-107
"WOODLAND SANTA"
A 40" santa box. With the use of a clip light, a warm glow will shine through the tree cutout. Easy!

HM-106
"WELCOME MISFITS"
A TRIPLE PATTERN!
Instructions included for the 32" sitting elf, the lighted present, and the bench.
HM-105
"TOY SOLDIER"
This 58" toy soldier is accented with pine garland filled with lights and wooden toys.

HM-86

OH CHRISTMAS TREE
A TRIPLE PATTERN!! INSTRUCTIONS ARE INCLUDED FOR THE BENCH, SITTING SANTA, AND LIGHTED SNOWMAN BOX. VERY EASY! 26" X 4O"

HM-79

SPIRIT OF CHRISTMAS - 40"
Your foyer or porch will look great when you add this santa to it. He holds a small, country candle in his arms. The band at the bottom of the coat reads "May the spirit of christmas enlighten you..."
HM-80

COUNTRY TRIMMINGS (5 - 7")
There can be many uses for these 7 holiday projects. Use them for ornaments, small gifts, or add them to presents as a "special" gift tag. Feel free to enlarge them.

HM-74

MOOSEY ON IN - 40"
Welcome your country guests with the adorable moose. Sure to be a hit at your next craft show!

HM-62
CHILL OUT - 28"
Invite your guests in with this adorable penguin... his sign reads "come in and chill out".
HM-61

STORY TIME SANTA - 37"

Kids will love this santa! He holds a book with a small mouse peeking over the top.

HM-60

OLD FASHION CHRISTMAS-45"

Add a little sophistication to your decorating with this old world santa. Very easy to paint.

HM-59

COOKIE DELIGHT - 26"

This, easy to make, gingerbread girl holds a piece of garland filled with lights.
HM-51

COUNTRY THYME SANTA - 49"

This santa holds a large christmas wreath that is filled with lights.

HM-43

REINDEER GAMES - 51"

A top selling santa pattern. Holds a small reindeer under his arm.
HM-38
WADDLES
A 24" PENGUIN THAT WORKS GREAT IN WREATHS OR USE IT AS A YARD STAKE.

HM-41
MY FAVORITE THINGS
A 34" SANTA THAT CLINGS TO HIS FAVORITE HOLIDAY ITEMS.

HM-34
SANTA'S GOODIES
MEASURES 44". ADD AN ELECTRICAL CANDLE OR LIGHT SET TO BOX TO CREATE A WARM LOOK.
HM-17
HEART OF CHRISTMAS
A 49" SANTA. HEART READS "CHRISTMAS WARMS THE HEART". MY TOP SELLING PATTERN THUS FAR.

HM-18
HO HO HO
A 22" HANGING SANTA. LOOKS GREAT IN A WREATH TOO.

HM-14
ST. NICK
A 25" SANTA. BEARD IS MADE FROM DOLL HAIR. A TOP SELLING PATTERN
HM-21
Baking Thyme
An easy to make 24" gingerbread girl. She wears a no-sew fabric dress and holds a basket filled with tiny baking supplies. Gingerbread collectors will adore her.

HM-49
Christmas Friends
This is a 21" wall hanging. The main part of the project is cut as one piece making it easy to complete. The hands, mustache, and snowman nose is cut separately.
HM-57
Santa's Mailbag
This 30" wooden snowman is perfect for the front porch or foyer. His bag holding the letters is cut as one piece.

HM-12
Ernie
A 26" wooden elf that has fabric leggings, scarf, and hat. A perfect size for the front door.
All patterns and designs © 2012 ~ Heidi Markish Designs - ALL RIGHTS RESERVED
Reselling on eBay is prohibited. Mass producing, catalog sales, photocopying and all other forms of reproduction are strictly prohibited. Downloading any pattern designs, images, or graphics (except for banners) is prohibited!
They are Copyrighted.